The BLS came in with a strong jobs number when it reported that the US added 850K jobs in June, well above the 720K expected and almost 50% more than last month's 583K, in a welcome sign that the chronic labor shortages may finally be ending.
While the BLS survey shows a gain of 850K, the household survey shows that the number of employed was actually down by 18K. As Bloomberg's Chris Anstey writes, "the question for me is why the big discrepancy between the household survey showing a decline in employment and the payroll figures showing a pick-up in job growth."
Despite the stronger than expected monthly increase, the US is still 7.6 million people below its pre-Covid level.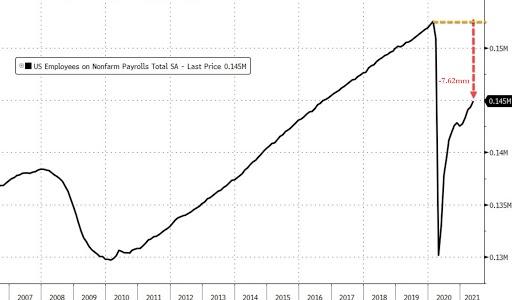 Where did the jobs come from? Even more bartenders and waitresses. A few highlights:
Employment in leisure and hospitality increased by 343,000 as pandemic-related restrictions continued to ease in some parts of the country. Over half of the job gain was in food services and drinking places (+194,000). Employment also increased in accommodation (+75,000) and arts, entertainment, and recreation (+74,000).
Employment rose by 155,000 in local government education, by 75,000 in state government education, and by 39,000 in private education, or a total of 269K new teachers!
Employment in manufacturing changed little in June (+15,000).
Employment in transportation and warehousing was little changed in June (+11,000).
Employment in mining rose by 10,000 in June.
Construction employment changed little in June (-7,000).
The Labor force participation rate of 61.6% was unchanged from last month and just below the 61.7% expectation – well below pre-covid times.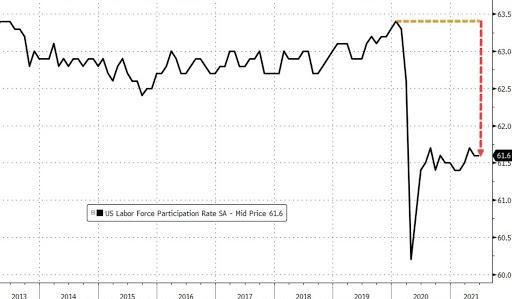 The unemployment rate, however, rose to 5.9% against the 5.6% expectation.
In the meantime, inflation is screaming – look at the charts here. Biden bragged about creating 3 million jobs since he took office, but most jobs are low paying and mere recovery from the Covid "pandemic" lows. Despite this reality, the White House Press Secretary Jen Psaki bragged about the price of hot dogs being down a whopping 16 cents.
The comments from Psaki were widely mocked on social media as everyone knew her comments were comical. If things are so wonderful in the economy, why the need for more stimulus spending via more talk of infrastructure spending?
Benchmark mortgage rates rose above the 3% mark once again, as bond markets responded to signs that the Federal Reserve could hike rates sooner than previously expected – due to inflation fears. This has recently boosted the Dollar, though it is curious that an interest rate hike telegraphed years in advance has such an effect on the markets – perhaps the markets don't believe the Fed, and they will raise rates much earlier than they are telling us.
Another interesting phenomenon is developing in the economy. Massive shortages are building. Here are few examples of these shortages:
This poses an interesting question. If all these shortages are occurring, why are businesses not investing to meet demand? One reason might be that business understands that the economy is not recovering in a normal way – it is a recovery via stimulus that will be short-lived. Still, another is that the government is paying too much for people to stay home – see here. In addition, with inflation and currency debasement, the earnings of Americans are not keeping pace – see chart below. Besides, shortages lead to higher prices – can Americans pay these higher prices?

Other issues may involve the fear of Biden taxes and any potential next Covid waves that may come. It is better to use the low-interest rates to buy back their own stock and wait to see if the recovery is real.
As of July 2021, there are three aspects of the economy that are weighing on the average American:
Screaming inflation – which will end with higher interest rates that will bleed through the economy. This is eating away at the poor and those on a fixed income.
Currency debasement – with an endless stimulus that yields little in GDP relative to the amount of stimulus. Much of the stimulus merely boosts asset prices (stocks and real estate), making the rich richer and the poor poorer.
Anemic Job prospects – that has yet to get back to pre-covid levels.
Despite Biden painting the economy as a Goldilocks economy, it is only Goldilocks for those on the upper end of the social-economic class. Economic storm clouds are building – see here.
-Shared by our friends at the Right Wire Report.